HFC is an organization that works among the most deprived in the community such as widows and their children in the area around Arusha city in northern Tanzania.

The work jointly runs by a board in Tanzania as well as a local Pentecostchurch, Nadosoit belonging to PPCT in Tanzania (Free Pentecostal Churches in Tanzania).

In Sweden the work mainly is fundraising throug "HFC Sweden" with 8 board members and with a 90-account. The account is therefore connected to swedish fundraising control and the work is non-profit-making.

The business was started by Marie-Louise and Morgan Andersson in 2005 with the help of a project from Swedish Pentecostel mission (PMU). But from 2009 it has been driven by contributions from private donors and other organizations. Marie-Louise and Morgan have worked in Tanzania with various help organizations since 1973, but are now pensioners but continue to work for HFC, as senior members and mentors. Today the Coordinators/missionarys Mia and Håkan Ivarsson are present in Tanzania.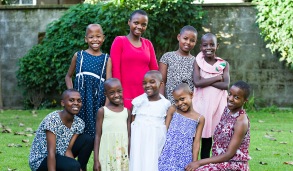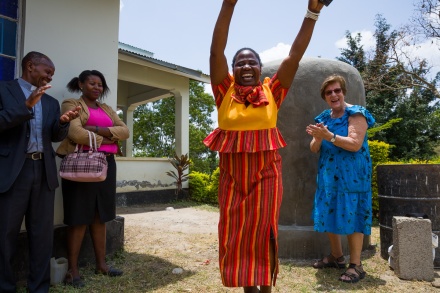 The main goals of the NGO is:

· To give vulnerable children and orphaned children the opportunity to go to school and improve their opportunities for a good upbringing.

· To reduce the number of street children in Arusha, especially girls.

· To improve the lives of widows, who have many children and a large insurance burden, through the possibility of an income-generating activity, such as dairy goats.

· To train groups in environmental knowledge that are used to be on rainwater, build water filters and dashboards that are movable to their "pit" latrines. These individuals, in turn, can pass on the knowledge to their families and nearby villages.

· To increase awareness of HIV/AIDS in the villages by training groups which in turn can teach individuals.
The objectives are in line with at least three of the UN's focus objectives decided at the World Summit on Sustainable Development in Johannesburg in 2002. The action programs shall address economic, social and environmental aspects and be addressed in an integrated manner.

The UN's five focus areas are:

1. Water and sanitation
2. Health
3. Agriculture and food security
4. Energy
5. Biodiversity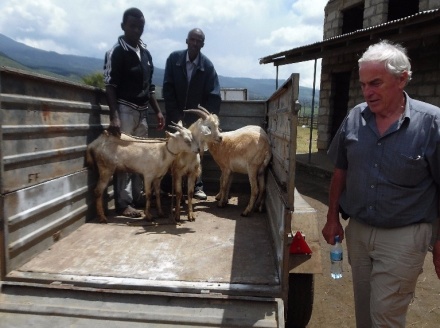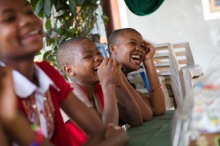 HFC runs with permanent local staff consisting of one matron, three house mothers, two day workers and 2 night watchmen. The staff is led and employed by the local board based in Arusha. In addition to the above-mentioned staff, two local teacher is also hired for the environmental courses.

The work includec four areas:

Schoolsupport:
Means that you can apply to HFC for support for school fees, school meals, school uniforms and other school materials. So far, HFC has been able to help approx. 40-50 children each year.

Familyhome for 12 girls:
The reason why HFC focused on girls is that from the beginning there were no organizations targeting girls. Boys are of course not excluded if the need arises. HFC's familyhome is the last option for these girls, a place of love and caring. These girls have not had any opportunity to be placed in a foster home as there have been no relatives who have been able to take care of them. In order for the children to have a good entrance into society, the children are going to a local state school. During the holidays, they can come home to relatives (if there are any) or home to one of HFC's staff.

Environmental Courses
HFC conducts environmental courses in rural areas in the villages around the city of Arusha. The course is both practical and theoretical and the wish is that at least half of the participants should be women. This is especially important as it is the women in the Maasai villages who are responsible for building houses, their local environment and for fetching water.
The basics of the course are:
- Review of basic environmental protection
- How to build a water tank to take advantage of rainwater
- How to build a simple water filter to get clean water
- How to build a movablie "slabb"plate
- Information on HIV/AIDS

The course also include different ways of cultivation to get a better harvest, better animal husbandry and as HIV/AIDS is still a societal problem, this area is also addressed.

The statistics show that during the years in which the courses were conducted, 2/3 of those who took the courses, have built their own water tanks. Through 10 courses, 150 people gain new knowledge that they in turn can share with family and neighbors.

Income-generating activities
In connection with each environmental course, a survey is conducted in the village to evaluate and try to find the most vulnerable women. Depending on the outcome of the survey, a suitable income-generating activity is found that can be either dairy goats, sheep breeding and support for a small business idea.
If you want to support HFC:
In Sweden you can submit your contribution to account: 900429-2 or Swish: 1230537738

Contact or local staff how to support in Tanzania!

In short about costs:
Primary school studies: costs about 100 $ /year and student
High school studies: costs about 200 $ / year and student (including accommodation and food)
University studies: costs about 1674-2230 $ / year and student (including computer, textbooks and boarding costs)
Environmental courses: costs 130 $ / environmental course. Scope 15 days for 15-20 participants.
Income-generated activity: one milk goat costs 70 $ /pc.

Thank you for your contribution!